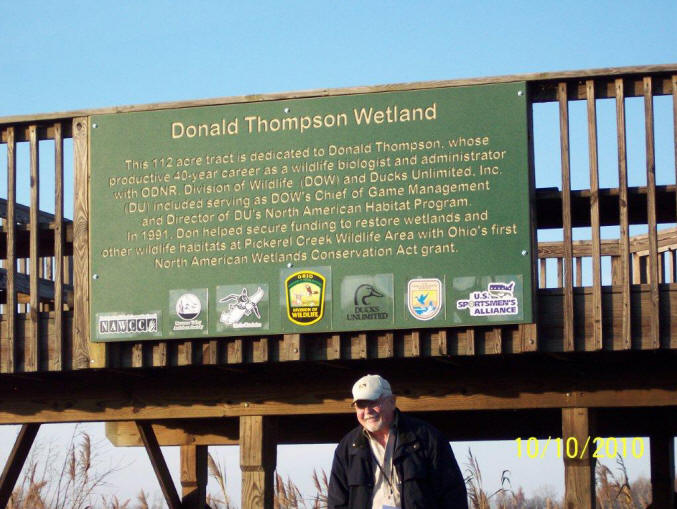 Printed Wednesday, October 19, 2011
In a productive 40-year career as a wildlife biologist and administrator with the Ohio Division of Wildlife and later Ducks Unlimited, Donald Thompson was instrumental developing a model wetlands restoration project.
This week that project — part of the now-sprawling 3,200-acre Pickerel Creek State Wildlife Area along Sandusky Bay northeast of Fremont — was dedicated in his name. A 112-acre tract, in 1991 it became the first project funded under the now famous North American Wetlands Conservation Act.
Water-level management structures were installed on the unit to re-establish and maintain native wetland plant and animal communities and to control invasive aquatic pests. Today it is home to countless species, from songbirds to ducks, muskrats and more, and it provides a truckstop for birds of all sorts migrating down the aerial interstates.
John Daugherty, acting state wildlife chief, recalled Thompson's career during the dedication, noting it reached back into the 1960s. "His part in this project was to establish the formula for completing wetlands restorations. It was a formula that successfully has been followed in countless other such projects across the region."
The heart of the formula is partnership of public and private agencies, in this case the state wildlife division, federal agencies, and DU, along with a host of other private cooperators. The latter group included the Maumee Valley Chapter of the National Audubon Society, Lake Erie Wildfowlers, Ohio Plan Conservation Clubs, and Wildlife Legislative Fund of America.
The involvement of so many hands may seem confusing, even potentially counterproductive. But the efforts of Thompson and many others proved it works.
The project dedication was part of the ninth annual partnership hunt, an event that brings together DU authorities from the Great Lakes/Atlantic regional office in Ann Arbor and leading DU contributors and luminaries from across the country, along with wildlife authorities and marsh managers.
It is three days of elbow-rubbing and waterfowling, and typically includes dedication of a new, or in this case, existing, wetlands restoration unit in the western Lake Erie marshlands. These marshlands, a remnant of vast wetlands that historically stretched from around present-day Monroe, Mich., around the southwest lakeshore and east almost to Cleveland, are the heart of Ohio duck country.
As for the event's hunting, well, it mostly was bluebird weather in the prime private marshes that opened their blinds to DU for the event. Only a few ducks went into the bag.
"We've had a fabulous season, until today," said Fred Zink, of Zink Calls in Port Clinton, about hunting conditions Wednesday. His marsh lies near the lake in western Ottawa County and had been averaging nearly five birds a man, as he said, "until today."
At the same time public marshes offering controlled or draw-only hunts have had less than average success so far. Low water in the lake and dry weather have made it problematic to keep some marsh units properly, seasonally flooded. Mild weather has kept the ducks content to rest in off-limits refuges or rafting well out on the lake. Or up north.
In Ohio's North Zone for waterfowling, the first split of the duck season ends Sunday. It resumes Nov. 20 through Dec. 19. Season dates this year were reconfigured to accommodate waterfowler preferences, based on a survey of hunters last year, the wildlife division said.
But new zones — three or even four — and new season splits may be in the offing for next year, pending federal approval. Wildlife administrator Dave Scott said the goal is to accommodate hunter preferences, allowing for maximum opportunities.
State wildlife managers also pointed out two new online tools that can keep waterfowlers up to date at wildohio.com — the bi-weekly aerial waterfowl survey report, and the new waterfowl abundance survey, which provides graphic illustrations of duck, goose, and water conditions statewide. The latter especially is a sharp-looking tool.
Contact Steve Pollick at: spollick@theblade.com or 419-724-6068