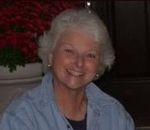 (March 31, 1947 – September 12, 2010)
Barbara Jean (Chapman) Meyer from Millfield, Ohio passed away on Sunday, September 12, 2010 at the age of 63 after a 2 year battle with colon cancer. Barb was the daughter of Rignald L. Phillips and Helen McKee Slisher, born March 31, 1947 at the family home on Dutch Ridge Road, Athens County. She was a graduate of Carthage Troy High School.
Barb worked as a Secretary with the Ohio Division of Wildlife for 17 years, and prior to that as Medical Office Receptionist at the Coolville Clinic. Barb operated 2 small businesses with her husband after her retirement. She enjoyed traveling, flower gardening, hunting and fishing.
Barb is survived by her husband, Gerald "Jerry" Meyer of Millfield, Ohio; her daughters Kimberly (Todd) Hagerich of Doylestown, PA, Kristi (Paul) Hamilton of Denver, CO, Tiffany Meyer of Athens, OH, and her son Brandon (Heather) Chapman of Marietta, OH. Barb has 5 grandchildren Katie (age 8) and Emma (age 6) Hagerich; McKenzie (age 13), Alexei (age 8), and Hunter (age 3) Chapman. She is survived by a sister, Betty Slisher (Paul) Bell of Racine, OH. Barb was preceded in death by her parents and a sister, Ruth Ann Slisher.
A visitation will be held for family and friends on Friday, September 17th from 5-8 p.m. at Jagers & Sons Funeral Home, Athens, OH. A private celebration of her life will be held for family members at a later date.
In lieu of flowers, please send donations to Appalachian Community Hospice, 30 Herrold Ave., Athens, Ohio 45701, to thank them for the amazing care they gave Barb in her final weeks of life.