Dar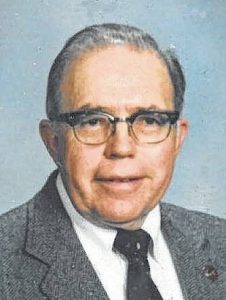 rell Francis Allison, 90, a loving son, husband, father and friend, passed away on July 9, 2017, in Sidney, Ohio.
He is survived by sons, Dennis D. Allison, of New Albany, Ohio, and Jeffrey J. Allison, of Gahanna, Ohio; grandchildren Jason (Cheryl) Allison, of Houston, Brooke (Craig) Agar, of Hamilton, Indiana, Abigail Allison, of Columbus, Ohio, and Jeffrey Allison, of Warren, Ohio; several great-grandchildren; and brother, Jon (Elizabeth) Allison, of Sidney. His special friend, Marge Crusey, of Sidney, also survives.
He was preceded in death by his wife of 39 years, Aileen M. (Bowlby) Allison; parents, Harold O. and Nell M. (Sherrick) Allison; son, Kevin K. Allison; and brother, Timothy Allison.
Darrell was born in Lima, Ohio, on Dec. 9, 1926. He graduated from Sidney High School in 1944 and earned his bachelor's and master's degrees from Bowling Green State University.
He was a lifelong conservationist and dedicated public servant, spending his entire career in fisheries management with the Ohio Division of Wildlife. Upon his retirement, the Ohio Senate honored his service, citing his "unwavering dedication to wildlife conservation-striving to meet the needs of sportsmen while protecting the environment. Always sincere and energetic in your approach to your work, you have given of your time, energy, and abilities far beyond what was required or expected and have fulfilled your myriad responsibilities in an efficient and professional manner."
Darrell was active in many state and national conservation and scientific organizations, including the Ohio Wildlife Management Association, Ohio Academy of Science, League of Ohio Sportsmen, National Academy of Sciences, and many local conservation groups throughout Ohio.
His passion for serving his family and community extended to his leadership in the Boy Scouts of America and his work with the American Red Cross.
Darrell treasured his family, friends and co-workers and the experiences they shared in the outdoors.
A visitation will be held from 10 to 11:30 a.m. Thursday, July 13, 2017, at Cromes-Edwards Funeral Home, 302 S. Main Ave. A private service will follow. Burial will take place at Maple Grove Cemetery in Findlay, Ohio.
In lieu of flowers, memorials may be made to the Heartland Hospice Memorial Fund (Kettering, Ohio) or the Nature Conservancy.
Funeral Home
Cromes Funeral Home Inc
302 S. Main Ave.
Sidney, OH 45365
937-492-5101