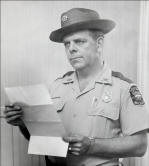 Jesse Weaver circa 1964

Published October 29, 2007 01:15 am –
KARL PEARSON
Star Beacon
Mention the name Jesse Weaver among the outdoor sporting community in Ashtabula County and all kinds of visions come to mind.
Unique would definitely apply to Weaver. Crusty might be another. A wicked sense of humor delivered with a rapier wit was definitely an element. An appearance like one of the old mountain men that roamed the west in the middle of the 1800s might still be another.
But, unless you were a poacher or violator of laws that protected the game and fish of Ashtabula County, the outdoorsmen who knew him would consider Weaver a trusted friend.
Today, they are mourning the passing of the man who was a pioneering figure in the work of the Ohio Department of Natural Resources as a game protector in Ashtabula and Lake counties from 1950-65 in the days when there were not nearly the resources in terms of manpower or technology to protect area wildlife. Mostly, he did it with good, old-fashioned hard work and shoe leather and all by himself.
Dr. Charles Curie of Jefferson, who numbers himself among Weaver's closest friends, said a friend once fashioned a sign he proudly hung on his garage at his property off Footville-Richmond Road.
"He was given a sign that says, 'Jesse B. Weaver, Dr. of Psychology Off. and Barn Calls by Appointment Only,'" Curie said. "I think that pretty much summed up Jesse."
Weaver's skills at the local level apparently made a huge impression on a regional and state-wide basis. He was eventually summoned to the ODNR district offices in the Akron area and served as district superintendent in charge of 19 counties until he left the ODNR in 1971. Before he left duties in the area, Weaver handpicked the late Jim Kelly, himself a legendary figure in the business, to succeed him.
Although his path would eventually take him as far afield as Washington and Alaska and various businesses as a charter-boat captain and a licensed pilot, Weaver's steps eventually brought him back to Ashtabula County. For the remainder of his life, Weaver was a trusted friend and source of wisdom to hunters throughout the area.
Weaver, who still lived in the quaint log cabin he had fashioned with his own hands off Footville-Richmond Road in Lenox Township, died Friday at age 79 after a long illness in the Erie Veterans Hospital. Calling hours will be held for him Tuesday at 2-4 p.m. and 6-8 p.m. at the Jefferson home of the Fleming-Billman Funeral Directors, 49 W. Jefferson St., Jefferson, with Masonic rites to be conducted at 7:45 p.m. Tuesday.
There is little doubt Weaver was held in high esteem. Curie, who was the driving force behind the Ashtabula County branch of the National Turkey Federation, spoke glowingly of Weaver.
"I've known Jesse my whole life," the 54-year-old Curie said. "I consider him one of my closest friends for at least the last 30 years, since I came home from college at Ohio State. We did a lot of hunting, fishing and camping with him. We spent a great deal of time just sitting and being buddies.
"Jesse was one of the most incredible people I've ever known. He was a brilliant man who truly understood the world around him. He had no equal in the natural world."
In many ways, Weaver was a throwback to a different time.
"Jesse truly was a man of the outdoors," Curie said. "He was the epitome of an outdoorsman. You could say he was a mountain man, not just in the way he looked, but in his spirit.
"Jesse was a true blue American who believe in the core American values. He believed in freedom, the Constitution and the Bill of Rights and was bothered by people who attacked those values."
Weaver was someone upon whom people could count.
"Jesse was a man of his word," Curie said. "He said what he meant and he meant what he said. He felt that our country was founded on those principles.
"That love of freedom came with a fierce sense of independence. His love of the outdoors was what a true American is all about."
Curie considers Weaver a patriot.
"Jesse fought for his country (in the Pacific theater in World War II) because of his belief in what this country stood for," he said. "He lived in the outdoors in the same way, with the same kind of passion.
"He believed the ability to hunt, fish and trap was woven into the fabric of the freedoms we enjoy in this country. Those were the things he talked about and the way he lived."
Although Weaver may not have been blessed with great education, Curie believes he possessed wisdom that could not be found in textbooks.
"Jesse probably understood people better than anyone I've ever known," Curie said. "People might have thought he was a wacko or he was off base, but anybody that thought that just wasn't listening. He was such a great story teller and his stories always had an important point.
"A lot of people probably thought Jesse was a character, and by all means, there were those elements about him. There was only one Jesse Weaver. There will never be another one like him. He was unique in every way."
Weaver was uniquely talented.
"Jesse's abilities as an outdoorsman were unbelievable and unparalleled," Curie said. "He was a botanist, a naturalist, a hunter, a gatherer, a fisherman, a leather worker and so much more. He could walk you through the woods at any time during the year and feed you with the different berries, mushrooms and other items he could find there."
As much as anything, Curie enjoyed the occasions when he and Weaver could just sit and talk. He came to rely on Weaver's wise counsel.
"Those of us who knew Jesse best knew when things weren't going just right in our lives that we could just go, sit down and talk with him," Curie said. "He'd listen, and by the time you were done, he'd get you back on the right road again.
"There were probably five or six of us that had that kind of relationship with him. I cherished that relationship. I'll miss it."