John Z. Pelton, 91, of Columbus, Monday, September 11, 2006.
Graduate of North High and OSU. Retired from State of Ohio Department of Natural Resources, Division of Wildlife and a member of their Hall of Fame. Founder of the State of Ohio Huskie Muskie Club. Past Director of the Muskingum Water Conservancy District in S.E. Ohio. Member of the Ohio Academy of Science. Member of Crestview Presbyterian Church where he was a trustee and co-founder of the Couples Club. Member of University Lodge F&AM #631.
Preceded in death by wife Helen D. Pelton, granddaughter Tamara Joan Pelton and brother George Levi Pelton. Survived by son, John D. (Beverly) Pelton of Dublin and daughter, Sally (Truman) Heicher of Powell; grandchildren, Laurie (Michael) Coon of Dublin, John (Lori) Heicher of Hilliard, Julie (Darrell) Fletcher of Dublin, Jennifer (Richard) Wagner of Royal Oak, Mich. and Stacie Pelton of Hilliard; great-grandchildren, Thomas and Michael Coon, Rebecca, Rachel and Ryan Heicher, J.D. and Will Fletcher, Joe and Allison Wagner; and several nieces and nephews.
Funeral service 11 a.m. Friday, September 15, 2006 at RUTHERFORD-CORBIN FUNERAL HOME, 515 High St., Worthington, Oh. 43085 (614-885-4006), where family and friends may call 2-4 and 6-8 p.m. Thursday. Rev. Alan Wendt officiating. Burial Union Cemetery. Donations may be made in John's memory to a charity of your choice.
---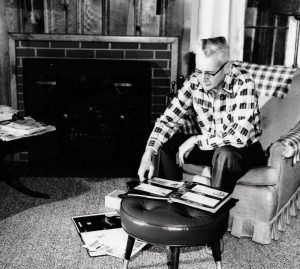 John Z. Pelton spent most of his ODNR career in Wildlife, primarily Fish Management. Then-Director Fred Moore wanted John to be his Assistant Director, but John refused, not wanting to give up his Civil Service protection. Fred tried to force the issue, telling John he would not be allowed to go back to Wildlife, but John still refused. John was reassigned to the then-Office of Planning to run the then-new Land and Water Conservation Fund, which he did in a very professional and positive way, until his retirement. John was inducted into the Conservation Hall of Fame, primarily for his work in Wildlife, including being co-founder of the Huskie Muskie Club, being a past Director of the Muskingum Watershed Conservancy District, and a member of the Ohio Academy of Science. John passed away in 2006 at the age of 91.