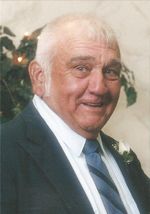 Melvin T. Weis, age 76, of Edon, Ohio, died at 11:35 P.M. on Saturday, May 2, 2010, at Community Hospitals and Wellness Centers in Bryan, Ohio, where he was a patient.
Mr. Weis was a graduate of Burnham High School in Sylvania, Ohio, and attended both Toledo University and Ohio University before being appointed as Conservation Officer with the Ohio Department of Natural Resources in Williams County, a position he held until his retirement in 1988 with thirty-three years of service. His expertise was in preserving hunting, fishing and outdoor beautification. He was instrumental in the LaSuAnn project in Williams County and has been honored over the years by the Williams County Conservation Club for his dedication to service of conservation and also with a distinguished service award. He was also honored by the Tri-State Game Protectors and by the State of Ohio for distinguished service and received a life saving award signed by President Lyndon B. Johnson. For many years he taught hunter safety education in Williams County. In his early years Mel was active in athletics, playing semi-pro baseball, county baseball and softball and church basketball. He helped organize the softball league in Williams County in 1964 and enjoyed playing the game until the age of 40, especially in his last year when he was able to play with both his boys. He also trained, bred and raised Standardbreed race horses. He was a member of First United Methodist Church in Montpelier, Conservation Clubs in Williams County, the United States Trotting Association and the Ohio Michigan and Indiana Racing Associations.
Melvin T. Weis was born on December 1, 1933, in Lima, Ohio, the son of Alphonse and Gladys (Aultman) Weis. He married Geraldine B. (Judi) Lynch on May 17, 1953, in Sylvania, Ohio, and she preceded him in death on November 26, 2009.
He is survived by two daughters, Pamela (Joe) Duprey, of Kirkville, New York, and Chris Ann Miller, of Montpelier, one son, Scott (Sandi) Weis, of Caledonia, Michigan, his grandchildren, Aaron, Logan and Lindsee Jo Weis, Ethan Duprey, and Briana, Ashtin and Braden Miller, and two great-grandchildren, Austin and Halle Weis. Also surviving are a sister, Charlene Hernandez, and two brothers, David and Duane Weis. He was also preceded in death by one son, Gerald "Jerry" Weis, and his parents.
Visitation for Melvin T. Weis will be held on Tuesday, May 4, 2010, from 2:00 to 4:00 and 6:00 to 8:00 P.M. in the Krill Funeral Home, Edon, Ohio. Services will be held on Wednesday, May 5, 2010, at 1:30 P.M. in St. Peter's Lutheran Church, Edon, Ohio, with Reverend Clayton J. Bailey officiating. Interment will follow in Edon Cemetery.
Mel will be missed, but not forgotten, because the sad songs of the wild will serve as a reminder of the man who was their champion.
Memorials are requested to the Arthritis Foundation or to the American Heart Association.
A humorous and inspiring tribute to Mel Weis was written by Ron Bailey. Read it by clicking here.