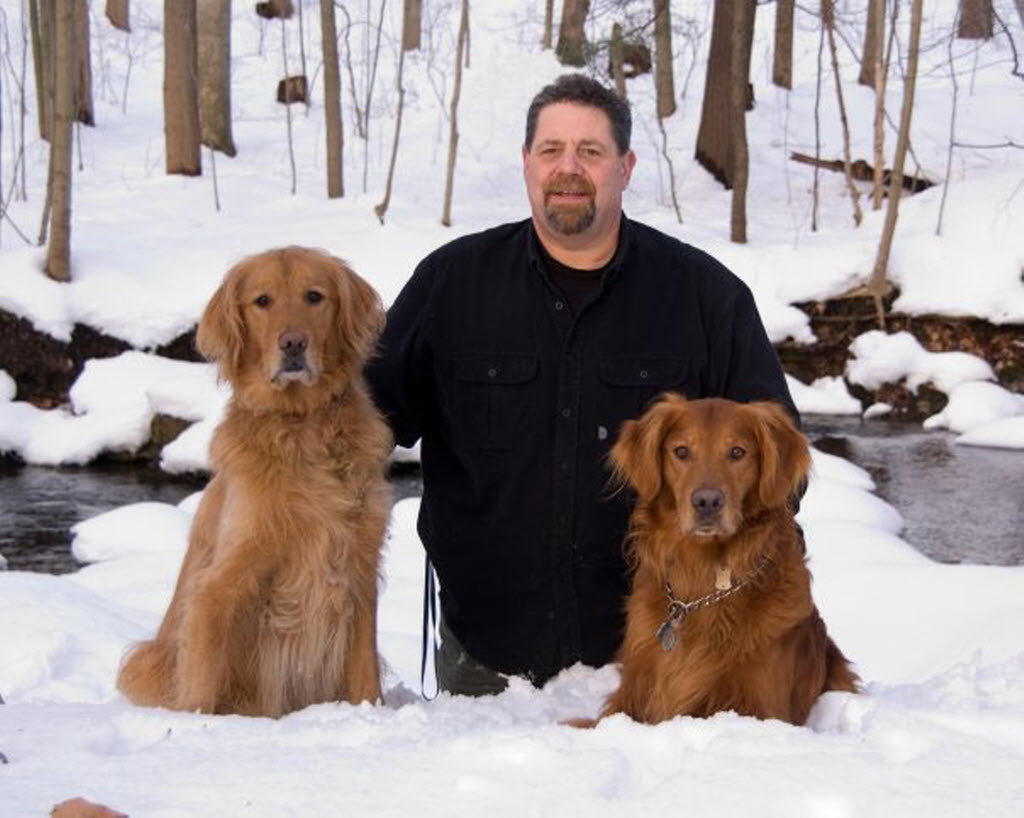 Reno A. "Jay" Reda Jr. (1959-2012)
Reno A. "Jay" Reda Jr., 52, of Chardon Township, passed away Jan. 16, 2012, at Hospice of the Western Reserve in Cleveland surrounded by his loving family, his dogs and "Reno's Army."
Born April 3, 1959, in Youngstown, he had lived in Youngstown before moving to Geauga County in the early 1980s.
Jay served as a state wildlife officer for the Ohio Department of Natural Resources for 27 years, retiring Oct. 31, 2008. He has been the host of ""Inside the Great Outdoors"" talk radio show on 1420 WHK, Sunday mornings from 8 to 10 a.m. for the last 11 years. For many years, Jay held a part-time commission with the Geauga County Sheriff's Office.
Reno "Jay" Reda married Michelle Faber in Chardon on July 2, 2005.
Jay's greatest joy was spending time with family, friends and his golden retrievers. He spent many hours cooking and won several awards while participating in celebrity cooking contests. Jay had a great passion for educating people of all ages about the great outdoors. Jay was a self-defense, firearms, archery and fishing instructor, was the first fully certified Wildlife Enforcement K-9 handler. He also worked two-and-a-half years undercover narcotics with federal task force and served as the media liaison for Division of Wildlife. He was a regular guest host on outdoor segments of Wild Ohio TV and WKYC.com/outdoors TV (Channel 3). He was a hunting and obedience dog trainer.
Jay was a self-defense trainer (firearms, hand-to-hand, etc.) for both law enforcement and private citizens, specifically women so they could enjoy the great outdoors. He was a competitive power lifter (squat, dead lift, bench press) and held a record or two for a while. Jay served as a peer counselor for survivors of critical incidents. He loved hunting especially pheasants, doves and waterfowl with Michelle, Grizzly Bear (his 9-year-old golden retriever), Bruin (his 5-year-old golden retriever) and Munchie (his 17-year-old "speckled retriever").
His passion for fishing was equaled by his joy of watching others master the sport. He loved to cook and "catered" a few dinners here and there. He taught cooking, specializing in Italian and wild cuisine. He also owned a small consulting company. Jay was a longtime member of the Chardon Rotary Club, until his work travels prevented him from attending.
He was honored with awards such as the Conservationist of the Year by Soil and Water Conservation District, Outdoor Skills Professional of the Year, Wildlife Officer of the Year, Governors Merit Award, Medal of Valor, Dupont Survivors Award and many others.
Survivors are his wife, Michelle (nee Faber) Reda of Chardon Township; sister, Gina (Paul) Garchar of Struthers; brother, Sam (Rhonda) Reda of Pataskala; nieces and nephews, Aubourne (Phil) Nemeth of Willowick, Larry, Paulie and Adrianna Garchar of Struthers, Sabrina and Reno Reda of Pataskala. He was preceded in death by his parents, Reno A. and Betty L. (nee Failor) Reda Sr.
Memorial services will be noon Saturday, Jan. 21, 2012, at The Church of St. Mary, Banquet Hall, 401 North St., Chardon, where friends may call from 4 to 7 p.m. Friday and from 10 a.m. until the time of the service Saturday. Private family burial will be at a later date.
The family requests donations to the Geauga County Agricultural Society, c/o Natural Resources Area, P.O. Box 402, Burton, OH 44021, so his work can continue.
Arrangements are being handled by The Burr Funeral Home and Cremation Service in Chardon. Information and online condolences at www.burrservice.com.
Published in http://www.News-Herald.com
Reno "Jay" Reda was a ubiquitous wildlife officer: news obituary
Published: Wednesday, January 18, 2012
By Grant Segall
Chardon Township — Jay Reda once stopped at a coffee shop and met a stranger shaken by a relative's cancer. Reda promptly organized a benefit that raised at least $20,000 for the stranger's family.
Naturally, friends said, a benefit to help Reda fight cancer last spring drew about 900 guests and six figures' worth of funds.
Reda, 52, a retired Geauga wildlife officer and a leading crusader for the outdoors, died Monday, Jan. 16, his first day at the Hospice of the Western Reserve. He was surrounded by about 30 people, two beloved golden retrievers and a favorite mutt.
Reda was a burly 6-foot-2, with upswept hair and a personality as big as all outdoors. At fairs, at meetings, in interviews, at celebrity cook-offs and on his weekly radio show, he promoted safe hunting and fishing with quips and tales.
"Jay Reda was the face of the Ohio Division of Wildlife for so many years," said Plain Dealer outdoors writer D'Arcy Egan. "He was larger than life."
Bill King, Reda's retired Wildlife supervisor, said, "He never met a microphone or a camera he didn't love. He used it to sell a mission. He'd get the most unlikely organizations to foster a relationship with the Division of Wildlife, like the Humane Society. Jay was very accomplished at telling those people that we have the same admiration and respect for wildlife as they do; we just choose to take it home and eat it."
In 1991, Reda told The Plain Dealer, "I like to meet people, and the contacts I make help me throughout the year. People want to stop game violations and protect wildlife."
Meeting with the East Geauga Kiwanis that year, Reda worked the room.
"I work for the Ohio Division of Wildlife," he said. "I need your help to do the best job that I can. If you have a wildlife problem, a wildlife question, I want you to call me. If you see someone violating wildlife regulations, I want to know that, too."
Reda trapped stray bobcats, bears, boas, alligators, iguanas and more. He persuaded local police not to shoot them and neighbors not to feed them. He explained fish and game laws to unwitting offenders and arrested the witting.
He once took a reckless shotgun blast to the chest. A protective vest saved him. He cited the shooter, then drove to a hospital.
Reda led a fund-raising drive for a year-round wildlife center at the Geauga County Fairgrounds and helped to build it. He brought a team of retrieving dogs to many events, including the Ohio State Fair and the Cleveland Sport, Travel and Outdoor Show. He also worked as a Geauga and a federal narcotics officer.
He taught self-defense, archery, cooking and more. He won prizes lifting weights and cooking smoked brisket, spaghetti sauce and more. He raised many of his own meats and vegetables.
He teamed with Jim Peters for several years on "Inside the Great Outdoors," most recently on WHK-AM on Sunday mornings. He also made guest appearances on WKYC-TV and Wild Ohio TV.
Said Peters, "Jay Reda spent his entire life sharing his joy of the outdoors with literally every person he met, particularly kids."
Growing up in Youngstown, Reno A. Reda Jr. learned to hunt with his father and grandfather.
"I didn't bring home much game," he told The Plain Dealer. "I brought home bags of mushrooms and stories."
As a grownup, he bagged game and many more stories. He once waded to his hips and grabbed a boa eight feet long or more. He once plugged Bill King's leaky tire with a pencil and face paint, then helped King fill out a tag for his first turkey with a little of the animal's blood.
Reda went to Youngstown State University, Hocking College and Ohio University. He joined Wildlife in 1981, graduated from its officers academy in 1983 and moved to Geauga for the job. He retired in 2008. He won many awards, including a governor's merit award and man of the year for 2009 from the Woods and Waters Club of Northern Ohio.
King said Reda's biggest thrill may have been banding a bald eaglet, when the species was first returning to Geauga. "He got to hold our national symbol."