Scott Alan Zody, 50, of Lancaster, passed away unexpectedly at his home on April 27, 2016. He was born on March 26, 1966 in Wooster.
Scott is a 1984 graduate of Triway High School in Wooster, OH. He graduated in 1988 from Ashland University, where he was an Ashbrook Scholar, with a B.S. in Education. He was the Chief of Staff/Chief Deputy Auditor for Fairfield County Auditor, Jon Slater. He was the former Chief of the Ohio Department of Natural Resources' Division of Wildlife. He was the former government-affairs director at the Ohio Bureau of Workers Compensation. He also worked for the Legislative Service Commission Internship. He was an avid deer and turkey hunter. Scott served on the Berne Union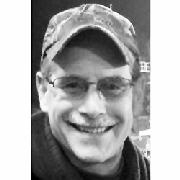 Local School Board. He was an avid fan of Berne Union Athletics and faithfully attended sporting events for his loving children.
Scott is survived by his loving wife, Beth Zody (Watson); his children, Nathan and Lauren Zody; his parents, Marion and Shirley (Klenk) Zody of Wooster; his mother-in-law, Maralene Watson of Reynoldsburg, OH; his brothers, Steve (Jacki) Zody of Midland, TX, and Mark (Mike) Zody of North Ridgeville, OH; brothers-in-law, Tim Watson of Columbus, OH and Tom (Kelley) Watson of Lancaster, OH; nephews and nieces, Bradley Watson, Brooke (Mike) Parker, Nicholas (Abby) Watson, Jacob (Brittanie) Watson, Colton Zody, Zach Zody, Ally Watson; great nieces and nephews, Aubrey, Makenzie, Lexie, Lydia, Samuel, and Ellie Watson, Maggie and Luke Parker. He was preceded in death by his father-in-law Myron Dale Watson.
Funeral Service will be conducted 3 p.m. Sunday, May 1, 2016 at the Lancaster Vineyard Church with Pastor Jarrod Spaulding officiating. Visitation will be on Saturday, April 30 from 2-4 and 6-8 p.m. at the Lancaster Vineyard Church. Graveside service will be conducted at 1 p.m. Monday, May 2 at Ridgelawn Cemetery, Crown City, OH.
In lieu of flowers, memorial contributions may be made to the National Wild Turkey Federation at http://www.nwtf.org/.
The SHERIDAN FUNERAL HOME, Lancaster, OH are handling the arrangements. To send an online condolence and sign guestbook, please visit www.sheridanfuneralhome.net