Stephen A. Jurco, aged 64, born July 2, 1952 and died at home on May 2, 2016. He served 28 years with the Division of Wildlife. Steve retired in 2001 and had been the Jefferson County and  Carroll County Wildlife Officer.
"I believe a person should be remembered, not for what he accumulated, but for how he lived his life.  I believe that when God sees me coming, He will smile!" – By Stephen Allen Jurco
Stephen Allen Jurco went home to be with the Lord, at the age of 63, on May 2, 2016.  He was born July 2, 1952, to the late Steve and Susan (Helt) Jurco in Martins Ferry, Ohio.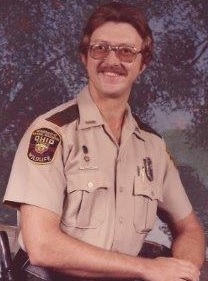 He is survived by his companion/fiancée of 32 years, Thea.  They enjoyed many years of camping, fishing, and hunting together.  He is survived by 3 sisters, a brother, 4 nieces, 2 nephews, 3 great nieces, and 2 great nephews.  He is missed by his uncle, 3 aunts, and many cousins.
His life was filled with hunting, fishing, and trapping from a young boy to the end of his life.  He loved to grow flowers and vegetables and was good at it.  He took great pride in what he grew and often shared it with many others.  He loved to cook, bake, and experiment with a better way to prepare any kind of food.  He truly loved to teach, especially to share all he could about hunting, fishing, shooting, and being a conservationist of the land.  He took life as it came and made it work, no matter what the odds.
He wanted to be a Green Beret, but that was not meant to be.  He, instead, devoted his career to the Ohio Division of Wildlife as a Game Protector.  He believed in it and was good at it.  It was his life for 30 years, retiring in 2001.  He entered the academy in 1976.  One of his most favorite tasks was teaching the hunter safety courses.  He loved to participate in programs such as YHEC.  He never tired of sharing his knowledge for the betterment of someone who also had a passion for the outdoors.  He is remembered by many of his fellow officers for his love of the outdoors and teaching.  He is remembered by those who ran the FFA camp.  He often ran into someone from one of the areas he had been assigned during his career, including Crane Creek.
He made his home in Carroll County, where he served most of his career, as Carroll County Game Protector.  He stayed living in Carrollton, until his death.  When he was assigned to this county, it was where he wanted to be.  He protected it within the confines of his job duties.  He made many friends, acquaintances, and some who may not have liked him but respected him.
He was a man filled with knowledge.  If someone needed to know about hunting, guns, ammunition, fishing, types of traps, cooking over an open campfire, starting a fire with flint/steel, he was the "go to" man.  If he did not know the answer for someone, he would find out and get back to them.  He acquired many, many volumes of books to assist him with his job, and to continue learning.  His love of wildlife showed in the many books that were his extensive library.
He was honored to be a member of the Belmont Better Hunting and Fishing Club, located at Piedmont Lake.  He loved and grew up fishing and hunting on Piedmont, sharing many hours with Thea there, and teaching her so much, especially to appreciate the beauty of the land.  They shared a love for Barkcamp, for camping and fishing.  He loved catfishing, setting jugs, and they spent many hours together there also.  He was proud that he got to help with the very early layout that was to become Barkcamp.  The Horse Camp was one of their favorite areas to stay when camping.
He was an Ambassador on the Berkley Fishing Team.  In everything that Stephen accomplished, he gave it his all.  He believed that nothing is given freely, and in return he gave his all to his life's endeavors.  His respect for his fellow team members carried many years past when he was no longer a part of the team.
He is missed so much.  He was a good man, and he has left an empty place where he used to be.  The only way to honor this man, for those who loved him deeply, is to remember his laugh, remember his smile, and remember him for the man he became.  He is with the Lord; he believed it, and we who love him have no doubt.  One day we will be with him and those who went before; until then we must find joy in the sorrow in that we got to know him and love him.
Love does not die, people do.  So that when all that is left of me is love, give me away as best as you can. – Author Unknown