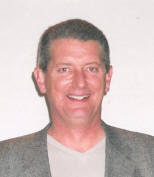 Tim D. Jordan, age 53, of Homeworth, Ohio passed away unexpectedly on Wednesday, March 13, 2013.
He was born July 21, 1959 in Elyria, Ohio. Tim graduated from Midview High School and Muskingham Area Technical College. He was an avid sportsman who enjoyed hunting, fishing and scuba diving. He enjoyed spending time with his family, granddaughters and friends. Tim earned several recognitions over his 28 years of service with the Stark County Ohio Division of Wildlife as a Game Protector.
He is preceded in death by his grandson, Brent Fry. Tim is survived by his wife Patricia Jordan (Pierson); stepchildren, Melinda Fry Wickersham of Minerva and Troy (Bobbie) Wickersham of Minerva; grandchildren, Paige and Laney Wickersham; parents Richard "Dick" and Patricia "Pat" Jordan of Grafton, Ohio; sister, Vicki (Stuart) Conrad of TX; brothers, Craig (Cherie) Jordan of MD, Mike Jordan of Grafton, Ohio, David (Mary) Jordan of Hilliard, Ohio and Rick (Danielle) Jordan of New London, Ohio and a host of nieces and nephews.
Calling hours will be held on Monday, March 18, 2013 in the Reed Funeral Home North Canton Chapel (801 Pittsburg Ave. NW) from 2 to 4 and 6 to 9 pm. Funeral service will be conducted in the funeral home on Tuesday, March 19, 2013 at 11:00 am. Those wishing to share a fond memory or their condolences may sign the Reed on-line guestbook at our website www.reedfuneralhome.com