Tim Davis passed away on July 10, 2021 at the age of 54 and will be greatly missed by friends and family alike.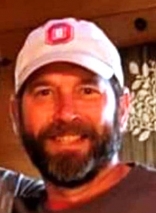 Tim was born on November 28, 1966 in Athens, Ohio, to parents Anita and Evan Davis. Tim was a graduate of Pleasant High School in 1985 and The Ohio State University in 1996 with a degree in Environmental Sciences. He was an outdoorsman who loved hunting, fishing and the beauty and wonderment of nature. Tim was able to further enjoy his love of the outdoors in his professional career as an Ohio Division of Wildlife Area Supervisor prior to his retirement.
Tim enjoyed watching various sports with friends and family. He was an avid fan of Buckeyes football and basketball, and of Cincinnati Reds baseball. Tim loved to cook and grill and enjoyed music especially The Rolling Stones, Tom Petty, and country love songs, all turned up to 11. As an avid reader, Stephen King was a particular favorite. Tim was loved by many, was easy to talk to, and never met a stranger. He would drop everything to help a friend in need, but was often too stubborn to ask for help if he needed it. He was a highly intelligent, simple man with an outrageous sense of humor.
Tim is survived by two sons Drake and Connor Davis of Marion, his parents Anita Davis of Albany and Evan Davis of Alger, his brother Scott Davis (Angela) of Indian Lake, niece Danielle Davis (Keith Brantley) and Nathaniel Davis (Kristen)as well as many loved aunts, uncles and cousins.
Tim is preceded in death by his maternal grandparents: Vivian Perry, Elizabeth (Libbie) and J. Carroll Elliott (Unkie) of Albany and fraternal grandparents Arlene (Harold) Ward and William Davis of Creola.
Visitation will be Thursday, July 15, 2021 at Snyder Funeral Homes, Denzer Chapel, 360 East Center St., Marion from 4PM to 6PM; Funeral service will be Friday at the funeral home at 11AM with visitation from 10AM until time of service. Burial will be held privately for the family.
If so desired, donations may be made to Camp Southern Ground, 100 Southern Ground Pkwy, Fayetteville, GA 30215
The Snyder Funeral Homes are honored to serve the Davis family; condolences may be expressed to the family by visiting www.SnyderFuneralHomes.com