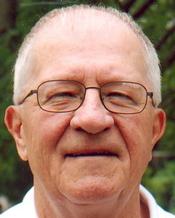 Bob Donohoe, 80, of Athens, OH died November 14, at his home. Born Dec. 6, 1930 in New York, NY, he was the adopted son of the late Herbert J. and Beryl W. Donohoe of Peiham, NY;, and the son of the late Charlotte Scherz of Palo Alto, CA.
Mr. Donohoe was retired as a wildlife biologist from the Ohio Division of Wildlife. He was also a former member of the Athens Downtown Coffee Gang; an active member of the New Marshfield, Ohio coffee group; an active member of the Ohio Division of Wildlife District #4's Monthly Breakfast Club; a member of the Old Men's Stretch Pals at Ohio University baseball games; a past player in the Hocking Valley Summer Baseball and Athens Slow-Pitch Softball Leagues; a long-time member in good standing of the American Atheists, Inc.; a retired member of the Midwest Deer and Wild Turkey Study Group; a many-time participant in the Athens Senior Olympic Games, achieving medals in Basketball Free Throw Shooting, Table Tennis, and Beer Box Stacking; retired Secretary of the Board of Directors, Copperheads Baseball Team (a member of the Great Lakes Summer Collegiate League); a guide for 42 years on opening day of the duck hunting season at the Winous Point Shooting Club, Port Clinton, Ohio, and the Founder of the American Standard Dry Martini Club, Athens, Ohio, a national congregation of people dedicated to the proper mixing, serving, drinking, and enjoyment of the dry martini Cocktail.
He is survived by his ever-loving wife of 52 years, Alice; son Mark of Cleveland, Ohio; a daughter, Ellen and son-in-law Michael Van Frayen of Johns Creek, GA, and daughter Ann and son-in-law Roger Borrello of Johns Creek, GA; grandchildren- Colman Donohoe, Joseph and Brittany Van Frayen, and Katie Rose Borrello; a sister Lynn Meehan of Clearwater, FL; a brother Keith and wife Ann of Virginia Beach, VA, and step-grandson Pete Van Frayen and wife Xanath, and their twins Brody and Gabriella of Bexley, Ohio.
There will be a memorial gathering at the Jagers & Sons Funeral Home on Saturday at 12:00 noon, where friends and family are invited to share their memories of Bob, followed by burial in the New Marshfield Cemetery. Immediately following all are invited for refreshments at the New Marshfield Community Center. Friends may call at the Jagers & Sons Funeral Home on Friday evening from 5 to 8 p.m. Please, no flowers. Memorial contributions may be made to the Athens Chapter of the American Red Cross, 100 S. May Ave., Athens, Ohio 45701, or to a charity of choice