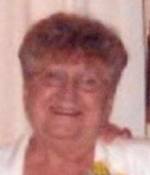 Carol M. Stotts Hart Bowser, age 70 of The Plains, died Thursday morning, June 30, 2011 at O'Bleness Memorial Hospital, Athens.
Born Sept. 24, 1940 in Amesville, she was the daughter of the late Grover Cleveland & Blanche V. Rupe Stotts.
She retired from the Ohio Dept. of Natural Resources as a Radio Operator and had also worked at the Ohio Highway Patrol as a Dispatcher for a total of 30 years. She attended Chauncey Dover High School and was a life long Athens County resident. She was a member of 1st Families of Athens County.
Carol is survived by her husband of 40 years, Robert E. Bowser; four daughters- Layna (Dan) Rodgers of Chauncey, Cathy (John) Matthews of Cambridge, Jayne Hart of Athens, Jacque (Jay) Henry of Mineral Wells, WV; a son, Robert E. (Stephanie) Bowser, Jr. of The Plains; thirteen grandchildren- Lydia, Lacey & Danny Rodgers, Jack (Lindsay) Matthews, Clay Matthews; Jeremiah, Darci & Dia Shields; Jeff (Spring) Henry, Jason Henry; Lakyn, Isabella & Braxton Bowser; seven great grandchildren; two brothers- Jim (Joyce) Stotts of Eleanor, WV, Owen (Olive) Stotts of Grove City; sisters in law- Lillian (David) Collins of Athens, Lois (Tom) Graham of West Minister, Colorado; brothers in law- Jim (Marcia) Bowser of The Plains; many nieces, nephews, extended family and friends.
Besides her parents she is preceded in death by her first husband, William "Bill" Hart in 1966; two sisters- Mary Lewis and Betty Moses; seven brothers- Clarence, Gerald, Bob, Paul, Grover "Junior", Wayne and Durward Stotts; and her father in law and mother in law- Earl & Elsie Bowser.
Carol lived her life to the fullest. She was proud to say she was raised on Sand Ridge and her family was everything to her. After her parent's deaths, she became the matriarch of the Stotts family and enjoyed her role as such.
Funeral service will be conducted Sunday 1:00 p.m. in Jagers & Sons Funeral Home, Athens, with her brother, Rev. Owen Stotts officiating. Burial will follow. Friends may call Saturday 2-4 and 6-8 p.m. at the funeral home.