George Billy, 85, of Athens died Monday evening, November 30, 2009 at O'Bleness Memorial Hospital, Athens.
Born August 26, 1924 in Gibson Station (Guernsey County), he was the son of the late John and Katherine Mekaloe Billy.
A 1942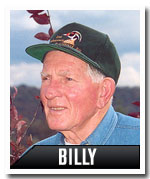 graduate of New Concord (John Glenn) High School and a graduate of Muskingum College, he retired as District Manager of the Ohio Division of Wildlife, Division Four. An avid sportsman, he was a member of the Athens Fish & Game Club and Camp Heritage. He served in the U.S. Marine Corps during World War II and was involved in the Pacific Island battles of Peleliu, Guadalcanal and Okinawa.
George is survived by his wife of 30 years, Phyllis Pennell Billy; a daughter, Diane Moody of Dustin, Florida; two step daughters- Jeananne (Richard) Bricker of Rocklin, California and Tuesdee Sharpe of Naples, Florida; a step son, Mark (Cindy) Sharpe of Logan; four granddaughters- Stephanie Porter, Christy Helber, Jill Castro and Rashell Lauwers; six grandsons- Michael Young, Seth Moody, Alex Moody and David Altman, Mark Bricker and Ryan Bricker; and nine great grandchildren.
Besides his parents he is preceded in death by a daughter, Carolyn Porter; three sisters- Anna, Katherine and Marie; and four brother- Michael, Jack, Joseph and Paul.
Funeral service will be conducted Saturday 1:00PM in Jagers & Sons Funeral Home, Athens with Pastor David Cogar officiating. Burial will be in Hilltop Cemetery, Millfield. Friends may call Friday 2-4 and 6-8PM at the funeral home. Military rites will be conducted by K.T. Crossen Post 21 American Legion, VFW Post 3477 and VFW Post 9893 Honor Guards at the cemetery.
A note of condolence may be sent to the family or sign the online register book at www.jagersfuneralhome.com