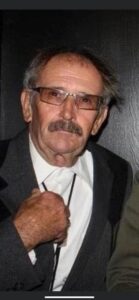 James Patrick "Pat" Jamison, 80, of McArthur, passed away peacefully at his home surrounded by his family, Tuesday, Jan. 24, 2023.
He was born Oct. 7, 1942, at Bellaire City Hospital to the late Chester and Violet Rensvich Jamison. He was married to the late Vivian Irene Martin Jamison.
Pat was a devoted husband, father, grandfather, brother and a friend to many. He served in the United States Navy for four years and retired after 27 years as a Division of Wildlife Officer for the State of Ohio. Pat was Vinton County's taxidermist for several years as well. After retirement, he enjoyed farming, spending time feeding bread to his cows and riding his buggy. Pat was an avid hunter and lifetime member of the McArthur Eagles AERIE #2279.
He is survived by his children, Mary (Skip) Ramey, Deena (Todd) Coursen, James Patrick (Marla) Jamison II, Joe (Rose) Jamison and Mark Jamison; stepdaughter, Leesa (Dan) Sidwill; 10 grandchildren; 14 great-grandchildren; brother, Denny (Debbie) Jamison; and sisters, Violet Prill and Barbara Simoncic; and numerous nieces and nephews.
A funeral Mass will be held 1 p.m., Saturday, Jan. 28, 2023, at St. Sylvester Catholic Church, 119 N. Second St., Zaleski, with Father David Young officiating.
Interment will be in St. Sylvester Catholic Church Cemetery, in Zaleski.
Visitation will be held from 10:30 a.m. to 12:30 p.m., Saturday, at the Garrett-Cardaras Funeral Home, 201 W. High St., McArthur. An Eagles service will be held at 12 p.m.
Please sign his online guestbook at www.cardaras.com