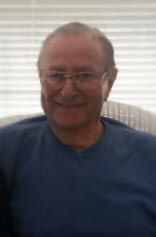 Oliver "Dale" Roach, 85, of Russells Point and previously of South Charleston, passed away Saturday, December 13, 2014 in Sterling House of Urbana.
He was born March 15, 1929 in Springfield, the son of Rufus and Martha (Myers) Roach.
Dale was a 1947 graduate of South Charleston High School where he was a member of the 1946 basketball team. He worked for several years at International Harvester and retired from the Ohio Division of Wildlife. Dale was a member of Mechanicsburg Lodge #113 F. & A.M., the Moose Lodge of Indian Lake and the South Charleston Alumni Association. He was an avid sportsman who enjoyed hunting and fishing. Dale's hobbies included garage sales, high school sports, playing cards and collecting anything and everything. He was known to be an enthusiastic fundraiser and was active with the local Shriner's. Dale truly enjoyed spending time with this family, especially his children and grandchildren.
He is survived by his daughter, Janet Lee (Jeffrey) Elwer of Runnels, IA; sons, Steven D. (Sheila) Roach of South Charleston and Randall S. Roach of Mechanicsburg; 13 grandchildren, 16 great grandchildren and 1 great-great grandchild; as well as numerous nieces and nephews.
Dale was preceded in death by his parents; his wife, Avanelle, and his brothers, William and Howard.
A gathering of family and friends will be held from 4-7 p.m. on Monday, December 15, 2014 in the SKILLMAN, MCDONALD & VERNON Funeral Home, Mechanicsburg. Masonic services will be held at 7 p.m. Funeral services will be held at 11 a.m. on Tuesday in the funeral home. The family will receive friends 1 hour prior to the service. Burial will follow in Maple Grove Cemetery, Mechanicsburg.
Memorial contributions may be made to the Champaign County Shrine Club. Condolences may be expressed to the family at www.vernonfh.com