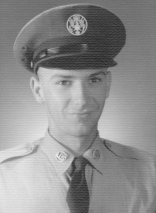 Beloved husband, father, grandfather and great-grandfather Robert E. "Crick" Terry, 76, of Dublin passed away Monday, November 9, 2015, at Kobacker House, Columbus, OH. Those who loved him the most surrounded him as he took his final breath after giving lung cancer and COPD one heck of a fight.
Bob, a retired Delaware County Sheriff's detective and Vietnam veteran, was born in Springfield, OH, to Russell and Lola Mae (Winkey) Terry. His father, who was prohibited from serving in WWII due to his flat feet, went to work on airplane engines instead. This initiated a life-long fascination of planes in Bob. The family eventually moved to California, where Bob graduated from South Gate High School in 1957. During his time in California, he fell in love with mountain climbing and running. He regularly ran five miles a day for most of his life.
Bob enlisted in the United States Air Force in August 1957 to fulfill his desire to serve his country and his love of airplanes. He was assigned to the 820th Strategic Air Division with SAC's Eighth Air Force at Plattsburgh AFB in New York. In 1959, he transferred to the 801st Air Division with SAC's Eighth Air Force at Lockbourne Air Force Base in Ohio. Bob was honored to be a part of the Mighty Eighth Air Force and carry on its noble heritage.
Bob served in Vietnam for 11 months and 24 days, where he provided aerial reconnaissance and surveillance. While in country, he and his fellow soldiers adopted an orphanage and provided Christmas presents to the children.
After his honorable discharge from the USAF in 1965, Bob became an Ohio Wildlife Officer. In 1969, Bob joined the Delaware County Sheriff's office and worked his way up from Deputy Sheriff to Detective before retiring from the department in 1979. Bob and then-Chief Deputy Bill Lavery solved a 1971 murder and landed in a 1972 issue of True Detective magazine. He also had the opportunity to work with the Secret Service when former US President Gerald Ford attended various local golfing events during his tenure. Bob was extremely proud of his law enforcement career and enjoyed it immensely.
Though Bob hoped to become a pilot in the USAF, he missed the requirements by one point and became a member of the crew. He obtained his pilot's license through a Veterans Administration program immediately after his term of service ended. During his law enforcement career, he transported prisoners via plane. Bob also became an NRA Firearms instructor.
Retirement was a word that never applied to Bob, as he preferred to stay busy. Instead, he used his experience with criminals to establish a new career in the design of security systems for businesses. He also parlayed his love of engineering into becoming a handyperson, which allowed him to take things apart and put them back together to his heart's content.
All those who knew Bob would agree that he would give anyone the shirt off his back, though he would be loath to accept one, preferring to rely on himself. He wore his intelligence and strength of character effortlessly. He was a nurturer and enjoyed taking care of those he loved, including animals.
Those who knew Bob might be surprised to learn that he was truly a renaissance man. In addition to his love of anything with a motor (and the louder, the better), he also enjoyed painting and writing poetry. Cooking was relaxing to him and he was very good at it. His green thumb produced herbs and ingredients for his dishes.
Bob is survived by his beloved, Angela Risner, to whom he pledged his love in 2008. Bob is also survived by his two children, Robert E. Terry, Jr. (Barb) and Julie Terry (Gene Herdman) as well as their mother, Janice (Davis) Terry (div. 1981); two granddaughters Tenille (Aaron) Huff of Delaware and Hailey Terry and her companion Doug Dietz of Pittsburgh and three great grandchildren Aiden, Tyler and Kayla and 1 great granddaughter on the way; his mother-in-law, Peggy Risner of Findlay, OH; and many dear friends, including former Delaware County Sheriff Bill "Moose" Lavery of Delaware, Marshall and Tina Reyes of Columbus and Dave and Kathie Underwood of Columbus.
In addition to his parents, Bob was preceded in death by his second wife, Cheryl (Smith) Terry (m. 1987-2001), whom he nursed through her courageous fight against breast cancer.
A Celebration of Life gathering will be held on Friday November 20, 2015 from 6:00 pm until 7:00 pm at the Snyder-Rodman Funeral Center, 1510 W. William Street at Valleyside Drive, Delaware. The memorial service will begin at 7:00 pm, led by Pastor Travis Borkosky. The Delaware County Veterans Association will provide military honors at the funeral home and a light reception will follow in the Snyder-Rodman Community Room.
The Snyder-Rodman Funeral Center of Delaware is honored to serve this veteran and his family.
Memorial contributions may be made to the American Lung Association to further research against this terrible disease.
To share a fond memory of Robert or to offer a condolence to his family, please visit www.snyderfuneralhomes.com