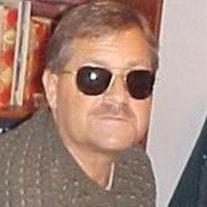 Ronald D. Bland, of Gahanna (formerly of Fairborn, Ohio), passed away on Thursday, April 14, 2011, surrounded by his loved ones.
Ron was preceded in death by his son, Russell "Rusty"; his mother-in-law, Corrine McBlane; his brother-in-law, Buddy McBlane; his sister-in-law, Delores Murray; his nephew, Jeff Murray; and his best friend and guide dog, Mischief. He is survived by his loving wife, Peggy; his cherished daughter, Kaitlyn "Kaytee"; his parents, Duane and Rita Bland of Enon, Ohio; his sister, Jayne Bland of Dayton, Ohio; sisters-in-law, brothers-in-law, many dear uncles, aunts, cousins, nephews, nieces, and friends; and special friends/family, Mike Bocko of Fairborn, Ohio, and Greg and Margaret Grimm of Columbus, Ohio. God Bless Greg Grimm!
Ron graduated from Hocking Technical College and worked for the Ohio Division of Wildlife. Thanks to the many coworkers and friends at the Division of Wildlife for their support and friendship. He loved being a daddy, hunting, fishing, being outdoors and spending lots of time with his family and friends. He will be remembered for his positive outlook and fun-loving nature. Ron was proud to volunteer at Lifeline of Ohio Organ Procurement when he could, and believed wholeheartedly in giving the gift of life to others. He was fortunate to have received that gift from his sister, Jayne, and again from his friend, Greg Grimm.
If desired, memorials may be made in his honor to The Juvenile Diabetes Association, or the Lifeline of Ohio (LOOP).
Family will receive friends from 2-5 p.m. on Sunday, April 17, 2011, at the SCHOEDINGER NORTHEAST CHAPEL, 1051 E. Johnstown Road, Gahanna. A funeral service will begin at 5 p.m. on Sunday at the funeral home, Rev. Peter Dembroski officiating. Visit www.schoedinger.com to share a favorite memory of Ron.