Charles E. "Ted" Cashner, Jr. was born in West Milton, Ohio on April 6, 1921.  He died on February 25, 2018 at age 96.  In between, he did a lot of fishing on local rivers and lakes, making his own custom wrapped fishing rods, as well as a comfortable ice shanty for wintertime!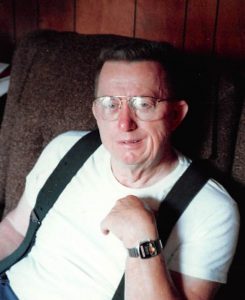 Ted graduated from Milton-Union High School in the class of 1939. He was a World War II Army veteran, serving in the Pacific area.  After serving his country, Ted went to Ohio State University, and earned his degree in Wildlife Management in the School of Agriculture. 

He worked for the ODNR, division of Wildlife, as State Game Protector for Miami County for more than 30 years.  Ted is survived by his wife of 55 years, Joyce Stephen Cashner.
Preceding him in death are his parents, Charles E. Cashner, painter and antique dealer, and Lillie M. (Gordon) Cashner; sister Lois L. Cashner Mott, brother James M. Cashner, half-sister Opal Cashner Pinkerton, and half-brother John B. Cashner.
A memorial service will be held at 2:00 PM on Friday, March 2, 2018 at Hale-Sarver Family Funeral Home, 284 N. Miami St, West Milton. The family will receive friends from 12:00 – 2:00 PM at the funeral home prior to the service. Memorial contributions may be made to Aullwood Nature Center, 1000 Aullwood Dr, Dayton, OH 45414. Condolences and memories may be left for the family online at www.hale-sarver.com.